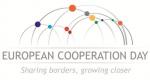 For a third year, the celebration of the European Cooperation Day is going to be held in the member states of the European Union and their neighboring countries. More than 75 European programmes intend to organize different events in the period between 15th and 22th of September, united under the motto: "Sharing borders, growing closer". The aim of the initiative, coordinated by INTERACT and the European Commission, and supported by the Committee of the Regions and the European Parliament, is to highlight the achievements of the cooperation between the regions and countries of Europe.
The Joint Technical Secretariat under Bulgaria - Serbia IPA Cross-border Programme, in cooperation with Community Center "Bratstvo – 1869", will celebrate the European Cooperation Day on 19th of September 2014 in 12.00 h, at the central square of Kyustendil. An exhibition of works of art, made by students of the local schools, as well as open seminar for demonstration of simple and practical technics for use of recycled materials are going to be organized within the celebration. The subject of the exhibition and the seminar will be "How to recycle with creativity".
Numerous awards and incentives will be given to the participants in the event. At the end of the celebration, with the joint efforts of all, a mosaic depicting the logo of the program from recycled materials is going to be created.
The celebration is open to the general public of the cross-border region.
For additional information, please contact the Joint Technical Secretariat.
The agenda of the event can be found HERE.